Series 10 Fingerprint Time Clocks
Series 10 Fingerprint Time Clocks
An affordable solution to time theft
The Series 10 Fingerprint Time Clock uses biometrics to clock employees in or out effectively eliminating buddy punches and ghost employee problems.
Our touch-and-go systems make clocking easy. Just place a finger on the high-speed optical reader and a combination of voice response and visual cues indicate acceptance.
Series 10 clocks also support standard RFID proximity or pin/password punches making it the timeclock of choice for a wide variety of businesses.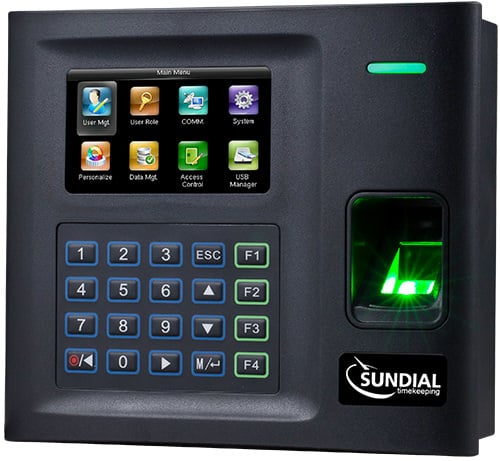 Plug & Play
Ready to go out of the box, this time clock requires no setup. Just give it electricity and an internet connection and you're all set.
Multilingual
Customizable, multilingual audio prompts plus visual cues indicate punch acceptance or rejection.
Stand Alone
Continue recording punches even if your internet service is interrupted. Offline punches will be synced withTimekeeper as soon as the connection is reestablished.
Security Enabled
Built-in relays can support external bells or electronic locks for added site security.
Job Switching
In addition to clocking in and out employees can easily switch between jobs or departments for tracking purposes.
Dimensions

Width : 6.5 in. (16.5 cm)

Height: 5.5 in. (14 cm)

Depth: 1.8 in. (4.6 cm)

Weight: 0.95 lbs. (0.43 kg)
Display: 3.0 in. TFT Color Screen
Verification Speed 1 sec or less (typical)
Fingerprint Sensor: Optical Fingerprint Sensor
Power

12V DC at 1.5A Power
Optional: 12V POE injector (sold separately)
Optional: 12V Battery Backup (sold separately)

Operating Temperature: 32º F to 113º F (0° C to 45° C)
Operating Humidity: 5% to 80%
Capacity

Fingerprint templates: 3,000
ID Cards: 10,000
Transactions: 100,000

Communications: Ethernet, USB Drive, (Optional) Wi-Fi
"We have worked with Sundial for many years.  They are always ready and willing to help and handle any questions we have.  Their staff is top notch and are very pleasant to work with." 
Gail Barger Lannom, Priority Staffing Group, Ltd.