Series 10 HID Proximity Time Clock
Series 10 HID Proximity Time Clock
A Convenient Solution For Secure Worksites
If you have an HID access control system, offer your employees the convenience of using just one badge for both security and timekeeping.
The Series 10 HID Proximity Clock is fast and easy to use. Just place employee badge and listen for the audible "Thank You" message to know your punch has been accepted.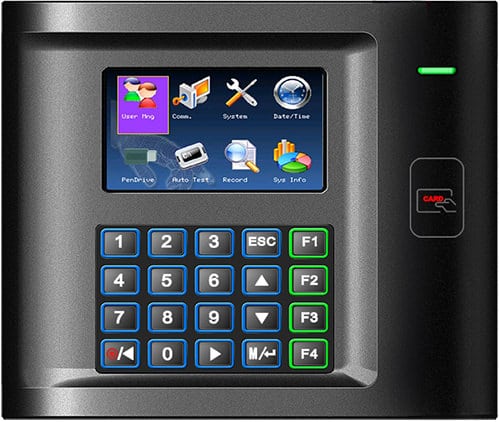 Plug & Play
Ready to go out of the box, this time clock requires no setup. Just give it electricity and an internet connection and you're all set.
Stand Alone
Continue recording punches even if your internet service is interrupted. Offline punches will be synced with Timekeeper as soon as the connection is reestablished.
Security Enabled
Built-in relays can support external bells or electronic locks for added site security.
Multilingual
Customizable, multilingual audio prompts plus visual cues indicate punch acceptance or rejection.
Job Switching
In addition to clocking in and out employees can easily switch between jobs or departments for tracking purposes.
Dimensions

Width : 6.5 in. (16.5 cm)

Height: 5.5 in. (14 cm)

Depth: 1.8 in. (4.6 cm)

Weight: 0.95 lbs. (0.43 kg)
Display: 3.0 in. TFT Color Screen
Verification Speed 1 sec or less (typical)
Power

12V DC at 1.5A Power
Optional: 12V POE injector (sold separately)
Optional: 12V Battery Backup (sold separately)

Operating Temperature: 32º F to 113º F (0° C to 45° C)
Operating Humidity: 5% to 80%
Capacity

ID Cards: 10,000
Transactions: 100,000

Communications: Ethernet, USB Drive, (Optional) Wi-Fi

"They helped us get away from the old manual punch time cards and get everything electronic. This increased our accuracy and productivity tremendously."
– Jodee Kelln