Series 900 Heavy Duty Time Clocks
Series 900 Heavy Duty Time Clock
A Time Clock That Can Handle Getting A Little Dirty
The Series 900 Heavy Duty Time Clock is ideal for job sites where electrical power may not be available or the clock could be subjected to shock, moisture, or dust.
Easy to use, the Series 900 has a fingerprint reader for biometric timekeeping. The touch-and-go operation means you just place a finger on the high-speed optical reader and a combination of voice response and visual cues indicate acceptance.
It's got built-in WiFi, battery backup, and supports biometric, proximity, and PIN/password punches for a timekeeping device that works as hard as you do.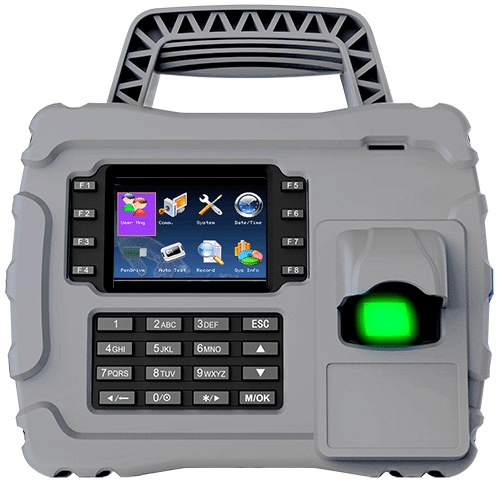 Portable
Ready to go out of the box, this time clock requires no setup. It's got built in WiFi, internal battery and a handle for easy carrying.
Water Resistant
With an IP65 rating, the series 900 can withstand rain, splashes, mud, dust and being sprayed with water.
Shockproof
The sealed rubber enclosure ensures this clock can handle a little rough and tumble.
Multilingual
Customizable, multilingual audio prompts plus visual cues indicate punch acceptance or rejection.
Stand Alone
Continue recording punches even if your internet service is interrupted. Offline punches will be sent to Timekeeper as soon as the connection is reestablished.
Dimensions (Rubber Cover Removed)

Width: 7.6 in. (19.3 cm)
Height: 6.4 in. (16.5 cm)
Depth: 3.75 in. (9.5 cm)

Net Weight: 1.75 lbs. (794 g)
Display: 3.5 in. TFT Color Screen
Verification Speed 1 sec or less (typical)
Optical Fingerprint Sensor
Power

12V DC at 3A Power
2000 mAh Backup Battery
Optional: 12V POE injector (sold separately)

IP65 Rated waterproof and dustproof protection grade
Shockproof (0.5m due to rubber enclosure)
Operating Temperature: 32º F to 113º F (0° C to 45° C)
Operating Humidity: 5% to 80%
Capacity:

Fingerprint templates: 8,000
ID Cards: 10,000
Transactions: 100,000

Communications: Ethernet, Wi-Fi, USB Drive

"Sundial Time Systems has provided our company with outstanding service and equipment for over 2 years. Their willingness and commitment to customer support and satisfaction is very rare in today's market. I would most certainly recommend Sundial Time Systems to save time and money."
Matthew Winward, American Tradition Homes